3D Laser Custom made orthotics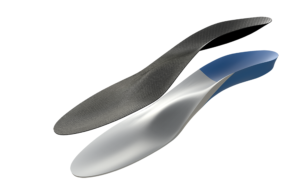 A custom orthotic is a device planned to align the foot and ankle into the most anatomically efficient position. They look like insoles but are biomechanical medical appliances that are custom made to correct your specific foot imbalance.
Custom orthotics work on your feet much like glasses work on your eyes – they reduce stress and strain on your body by bringing your feet back into proper alignment. The plastic body of the custom orthotic helps to re-align the foot by redirecting and reducing certain motion that takes place during the gait cycle.
Custom orthotics fit into your shoes as comfortably as an insole – and they have the advantage of having been made from precise imprints of your feet. We offer a comprehensive variety of custom-made orthotics care for adults and children.
We use the most appropriate materials and the latest computerized technology to enhance patient's mobility and increase their quality of life.
Medical Compression Stockings 
Unisex, Male, Female, Maternity Pantyhose Stockings
Compression stockings/ Support Stockings are designed to apply pressure to your lower legs, to help maintain blood flow, and reduce discomfort and swelling. Compression stockings are elastic garments worn around the leg, compressing the limb. To reduces the diameter of distended veins and increases blood flow.
Brace
Corflex Braces 
Bunion Aligner
Pain and discomfort are the main issues with bunions.
Recommended for use in stage 1, 2 & Post operative conditions
Direction for use : Just slip it over the big toe, pull it under the arch and latch it to back of feet. The Ultra-thin Bunion aligner is available in 5 sizes, from x-small to x-large for comfortable fit.
Read instruction slip inside the box on use and maintenance.
Features : Made of a special ultra-thin material called power net,(fits into shoes) it gently aligns the big toe towards its natural position. You can notice the difference right away. This is made of breathable material and is comfortable. The kit also comes with 2 silicone gel toe separators, for evening use. This is the first big toe aligner designed for day time Bunion pain relief.

Calf and foot massager with vibration and heat
Foot and calf massager with heat and vibration. Flexible kneading discs create a professional massage experience
Electrotherapy 
This dual channel EM-9000 ultra 

TENS / EMS / IF unit

 is ideal for clinical and daily home care use.
18-0450 ComboCare Ultrasound & IFC 2-Channel Combo
The ComboCare™ is the latest addition to our professional line of therapy systems. This all-new microprocessor controlled unit combines clinical ultrasound therapy with five treatment waveforms: IF 4-Pole, IF 2-Pole, Russian, EMS, and TENS. Large easy-to-read LCD panel allows the clinician to quickly set up treatment parameters. A dual frequency 5 cm sound head comes standard with the unit.
Product Features:
• Portable therapy – provide ultrasound and e-stim simultaneously, great for treating trigger points
• 2-channel of electrical stimulation output
• Large easy-to-read graphical LCD display with exact dial performance and programmable timer
• Waveforms include TENS, EMS, 2-Pole Interferential, 4-Pole Interferential, and Russian
• Dual clinical ultrasound features a 5 cm sound head which offers I MHz and 3 MHz frequencies
• Ultrasound has 10% – 100% duty cycle selections
• 10 presets per waveform
• 20 ultrasound presets
• User defined memory positions for user protocols
• Designed for tabletop, therapy cart or mobile use
• Includes 4 pieces of carbon electrodes with sponge pads, 4 pieces of 2″ x 2″ self-adhesive electrodes, and 4 pieces of 2″ x 4″ self-adhesive electrodes.
• 4 Straps, 2 sets of lead wires and a user manual
• Product dimensions: 10½" (W) x IS" (L) x 8″ (H)
• Product weight: 6.7 lbs
• One year manufacture warranty
Specs:
Waveform: lFC-4P, IFC-2P, TENS, EMS and Russian
Pulse Width: 30-400uS
Frequency: 1 MHz and 3 MHz for ultrasound, 1-250 Hz for LF. Beat frequency for IF: 1-150 Hz. Carrier frequency for
IF: 4K Hz. Carrier frequency for Russian: 2.5K Hz
Power Supply: Adaptor, input 100-240V 50/60Hz, output 15V/3A
Intensity: Max 3W/CM2 (pulse) for ultrasound, 0-50mA for IF
Working Time: Max 60 minutes for IF, Max 30 minutes for ultrasound and combo
BNR: 5:1 Ratio
Download: Specification
• Health Canada Licenced Device
Shiatsu back and neck massage pillow with heat
This dual channel EM-9000 ultra TENS / EMS / IF unit is ideal for clinical and daily home care use.
Posture Correction 
Correcting your posture can dramatically affect your overall health and well-being. By using the Posture Medic to help you loosen tight muscles and strengthen weaker ones, you will allow the rest of your body to work better.
Pillows 
30-5002 KOSIM MICRO-SPHERE CERVICAL PILLOW
• Designed to relieve neck pain, shoulder tension, headaches, and alleviates stress area
• Micro-Sphere allows the pillow to mould into any sleeping posture, giving optimal support.
• Provides proper cervical alignment to enhance quality of sleep
• Designed to reduce neck pain in the morning by increasing neck support
• Manually adjustable support area by moving the micro sphere
• Double-sided design to offer full support or ultimate comfort
• Tradition pillow layout divides into different sections for all dimensional support
• "H" Sectional Divided Design (SDD) provide different height level and distinguish supporting area in order to serve both back sleepers and side sleepers
• Ultra light weight and fit Standard or Queen pillowcase (20″ x 27″)
Mediflow/Chiroflow Waterbase Cervical Pillow
With its water-layer at the base, it provides outstanding comfort and responsive support for the head and neck. It continuously responds to changes in your sleeping position, and adjusts to fit your shape. The firmness can be personalized to fit your comfort level.
30-3001 (Single) Chiroflow Professional Waterbase Pillow
30-3006 6-Pk Chiroflow Waterbase Pillow
(first time buyer, receive a free display stand with the purchase of 8-pk – cannot combine with any promotion)
* For hygienic reasons all pillow purchases are non-returnable.
LOGIC CURVE™ SLEEPING PILLOW
• Doctor designed with your comfort and biomechanics in mind.
• Patented contour technology that gently lifts, and corrects neck posture while sleeping to relieve neck pain and reduce muscle stiffness.
• Adjustable for your desired comfort in firmness.
• Your choice of AIR or WATER.
• Logic Curve pillow adjusts to your shape as you change sleeping positions. Ideal for back or side sleeping.
• Correct balance of SUPPORT & COMFORT.
• Unique soft bamboo strips that contour to your neck and provide enhanced support. Get the Great Sleep you have been dreaming of!
Therapeutica Ultimate Cervical Sleeping Pillow
This pillow doesn't look like what you would expect – that's because it was designed by an Ergonomic Designer in consultation with a Doctor of Chiropractic. The goal to a sound sleep is 'Spinal Alignment'. Because you sleep on your back, side, or both, this pillow was created to work for each sleeping position. The ergonomic design offers correct support and stability in sleeping posture. The result is a more sound sleep and less tendency to wake with pain, stiffness and many of the symptoms resulting from lack of support.
• Five sizes for a custom fit
• Five-year warranty not to lose shape or resilience
• Comes with a free-fitted polyester/cotton machine washable zippered pillow cover
• Child, Petite and Average fit into a standard pillow case. Large and X-Large a king-size pillow case
• Made of non-allergenic, non-toxic foam that can be recycled where applicable
• Not only an investment in a pillow, but an investment in your future health
30-7101 Child Sleeping Pillow Age: 6-10 years old
30-7201 Petite Sleeping Pillow 4.25″ – 5.25″
30-7301 Average Sleeping Pillow 5.25″ – 6.25″
30-7401 Large Sleeping Pillow 6.25″ – 7.25″
30-7501 X-Large Sleeping Pillow 7.5″ +
Core Products Fibre-Fill Orthopedic Pillows
30-0200 Tri-Core Pillow (Full Size) – 24 x 16″ (61cm x 41cm)
30-0221 Mid-Core Pillow (Mid Size) – 22 x 15″ (56cm x 38cm)
30-0219 Petite-Core Pillow (Child Size with printed pattern) – 19 x 12″
(for small adults and children)
• Made in USA
These pillows have a unique trapezoid centre that provides cervical support while side or back sleeping.
Our best selling orthopedic pillow, the Tri-Core, is prized for its effectiveness in correctly aligning the spine and supporting the neck in its natural position to help relieve headaches, neck pain for side and back sleepers alike.
Its patented overall design: a unique trapezoid center and two neck lobes which cushion the head and support the neck, make it the highest quality cervical support pillow available. The Tri-Core is suitable for the Correct and Maintain stages of care.
Hypoallergenic, the down-like feel of Tri-Core pillows provides a sense of long-lasting freshness and superior pillow life. Carefully designed and constructed for better sleep.
Because the cervical curve is supported in its neutral position, using Tri-Core pillows helps to correct nerve malfunction and promotes healing of injuries. More importantly, Tri-Core pillows promote good health while providing maximum comfort by preserving the normal curvature of the neck and spine. The end result? You'll experience an increase in sleeping comfort within a couple of days of using Tri-Core pillows. Others may require up to two weeks before the neck and back muscles adjust to their proper position. At last, restless nights due to pain will be diminished with the use of Tri-Core pillows.
* For hygienic reasons all pillow purchases are non-returnable.
30-0240 D-Core Orthopedic Pillow
Get proper cervical support at an economical price. The patented D-Shaped center greatly supports the neck to relieve pain and restore natural curvature of the spine. Helps relieve tension headaches, neck spasms, arthritis, and snoring.
• Filled with 100% polyester fiber.
• Fits a standard pillow case
• Full Size: 24″ x 16″ (61cm x 41cm)
* For hygienic reasons all pillow purchases are non-returnable.
30-0255 Travel Core Pillow
Get the support you need while sitting (lobes down) or lying down (lobes up or down). Compact size makes it easy to pack in a suitcase or carryon.
• Size: 18″ x 9″ (46cm x 23cm)
• Provides the therapeutic comfort of the popular Tri-Core.
• Pillow while traveling.
• Supports your neck to help prevent stiffness from sleeping or sitting.
• Compact size makes it easy to carry.
* For hygienic reasons all pillow purchases are non-returnable.
Thumper Massager
The Thumper® Sport is the massager of choice for home users. If your shoulders are stiff after your initial round of golf at the beginning of the season, if your legs are burning from a bike ride with too much vertical climb, or if you simply spent too much time on your feet at the sales counter, the Thumper® Sport provides all the soothing your muscles need, along with all the health benefits associated with deep tissue massage.
Medistik Pain Relief
MEDISTIK is the strongest topical pain reliever available without a prescription.

Since 2006, Professional Athletes, The Canadian Military and thousands of patients
at over 3,500 Health Clinics have relied on MEDISTIK to prevent, relieve and heal muscle, joint and arthritis pain.
Three product formulations:

Dual Action Stick

Dual Action Spray

Fast Acting Ice Roll-on.
Ranging from 16% to 46% active ingredients.
Many topical pain relievers mask the pain temporarily by tricking your brain to focus on the counter-irritant nature of their product.
Medistik pain management system is a systematic approach to treating pain.
KINESIOLOGY TAPE
EASIEST TO APPLY
THERAPEUTIC KINESIOLOGY TAPE FOR
DRUG-FREE PAIN RELIEF.
INJURY PREVENTION.
ENHANCED PERFORMANCE.